Dental / Medical
Glass is a key ingredient in dental restoration materials, enhancing both appearance and durability as a high-performance inorganic filler.
With over 20 years' experience in the dental restoration industry, we offer a wide range of glass solutions for ionomers (glass & resin-modified), composites and compomers.

Key Features
HIGH TRANSPARENCY
A clean grinding process allows us to match the refractive index of our glass to the most widely used dental resins (from 1.50 up to 1.61).
OPTIMAL FLOURINE LEVEL
Unlike traditional glass melting methods, our custom-built kilns and unique 'cold crust' technique ensure that 98% of volatiles are retained, with fluorine content up to 25 wt%.
ULTRA-FINE PARTICLE SIZES
We produce powders in a range of grain sizes, with D50 values as low as 0.7 all the way up to 10 microns.
CONTROLLED CHEMISTRY
Rigorous control throughout production (with an enhanced ISO 9001 quality system) ensures that all our materials retain consistent chemical and physical properties.
FULLY CUSTOMISABLE
Our glasses are supplied either as quenched pieces (frit) or as a spray-dried powder, available in a particle size of your choice with fully-bespoke manufacturing to your specifications also available.
Product range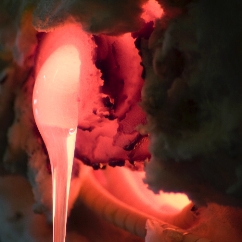 INERT GLASSES
A range of barium containing glasses to improve the mechanical strength, durability and appearance of your composite.
Our inert glasses can be supplied in crystal form or as spray-dried powders with D50 values typically in the range of 0.7μm to 1.5μm. We can meet your PSD specifications to ensure correct packing density and durability.
---

REACTIVE GLASSES
Reactive glasses with fluorine content up to 25 wt%, for use in traditional glass ionomers, resin-modified glass ionomers, and specialist composite applications. Glass chemistry can be optimised to your own formulation.
Our reactive glasses are available as glass crystal (water-quenched glass) or can be ground to a specific particle size distribution to suit your requirements. Powders are spray-dried to ensure ease of handling without compromising ability to disperse freely into liquids.
---

GLASS CERAMICS
Glasses manufactured via our usual melting method then quenched to a glassy state, for use in all-ceramic crowns and for porcelain fused to metal crowns. These products are supplied as crushed glass pieces or as a powder, ready for further processing and eventual sintering to a ceramic phase.
---

BIOACTIVE GLASS
Bioactive glass offers preventative and therapeutic properties in dental filling composites. Our range includes both fluoride-containing (BiominF) and chloride-containing (BiominC) bioactive glasses.
A PARTNERSHIP THAT PUTS YOU IN CONTROL
Many of our customers' bespoke dental glasses started life as research and development projects with our experts working in collaboration with the customer's technical team.

We can take a glass from laboratory proof of concept to a fully commercialised product. Our composition-dedicated kilns and small-scale grinding facilities allow us to produce cost-effective materials tailored to your specifications. This allows you to choose the exact chemistry of your glass with total control of the refractive index, radiopacity and reactivity.
Get in touch
If you would like further information then please get in touch.
Contact